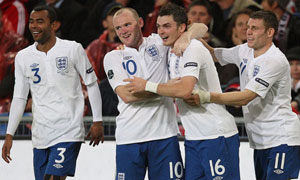 All the crew here at Team Colours are thrilled with England's result against Switzerland last night.
After our win against Bulgaria, England had to face Switzerland in what was expected to be a more challenging match, in their 2nd Euro Qualifier 2010.  Firstly Switzerland were the team who had beaten Spain in the earlier stages of 2010 World Cup, not to mention England's sad post World Cup image and then on top of that Wayne Rooney's allegations about his private life being all over the media.  However England and Rooney came out on top and beat Switzerland 3-1 in style.
Capello had vouched for Rooney before the match, saying that he was mentally able to put the allegations about his personal life to one side, and put his all into helping drive England to victory.  Rooney's goal came in the first 10 minutes of the match, and he cleverly didn't over react to this own success, which given his current media coverage was a wise choice.
Rooney's goal was followed by goals from Adam Johnson, who was substituting Theo Walcott and Darren Bent. The Swiss who had been pretty disappointing in the first half, but picked up the pace a bit in the second half but just when they were playing their best spell the referee showed Lichtsteiner his second yellow card.  However Swiss substitute Shaqiri let fly with a great swerving goal, bringing the score to 2-1.
England was feeling comfortable in the latter part of the game, and Capello substituted Rooney with Shaun Wright-Phillips, which resulted in a goal with a tidy finish from Darren Bent.
Capello made some choices which worked out well. He also saw the confidence between Phil Jagielka and Joleon Lescott, from their days together at Everton, which made him feel they would be the best pair from his depleted central defensive resources.
Now after England's second Euro Qualifier, Capello has even bigger decisions to make.  Having got the six points under the England belt he now needs to make sure he gets it right for the next match against Montenegro next month at Wembley.
With Ferdinand ready to return after his knee injury there is the question of who will wear the England football team captain's arm band?  However Steven Gerrard has shown us that he has what it takes both on and off the pitch, so many would say that the time is right for Capello to give him the arm band permanently.
Gerrard has done us proud with his mature displays off the pitch, which have given firm backing to Capello.  He could symbolise a bright new era for the England football team.